Process Control with Storaweigh
Our PCS for any bulk handling process
The StoraWeigh platform is a feature-rich process control system product designed and configured by Promtek for any bulk material handling process.
Bulk material handling is an important industry all around the world because it makes it possible to safely, consistently and reliably produce food, meat, building materials, oils and lubricants, drugs and composite blended materials that go into everything we buy!
Companies in this sector deal with the logistics of delivering and storing large volumes of raw materials and finished products, as well as processing these materials as efficiently as possible using an array of complex machinery.
What Storaweigh does for you
Features that also integrate with your current setup
What can I do with it?
Using our solutions you can manufacture your products efficiently, utilising your plant and man-power effectively to gain extra capacity and additional flexibility to handle the demands of your marketplace.
The Promtek StoraWeigh platform offers solutions to fit any size of manufacturing process and any kind of equipment.
How does it compare with PLCs, SCADA and DCS?
The Promtek StoraWeigh® platform combines the scaleability and feature set of a DCS at a comparable cost to a PLC and SCADA (Supervisory Control And Data Acquisition) based solution.
It provides built-in process control features found in a DCS (Distributed Control System) such as production scheduling, centralised user security and end-to-end routing across machines.
These high level features are accessible from any screen on the factory network, allowing production, quality, maintenance and HR to quickly access information they need for their roles.
Like a traditional SCADA package, Promtek's StoraWeigh® Platform also has the capability to display rich graphical HMIs (Human Machine Interfaces) to give your operators manual control and real-time information about the process flow across your entire line.
StoraWeigh systems connect to the field wiring using off the shelf PLC (Programmable Logic Controller) hardware and industrial grade computer hardware, allowing customers to hold low-cost spares and replace faulty components themselves. This results in a lower total cost of ownership and ensures that systems will last for decades with full support from Promtek.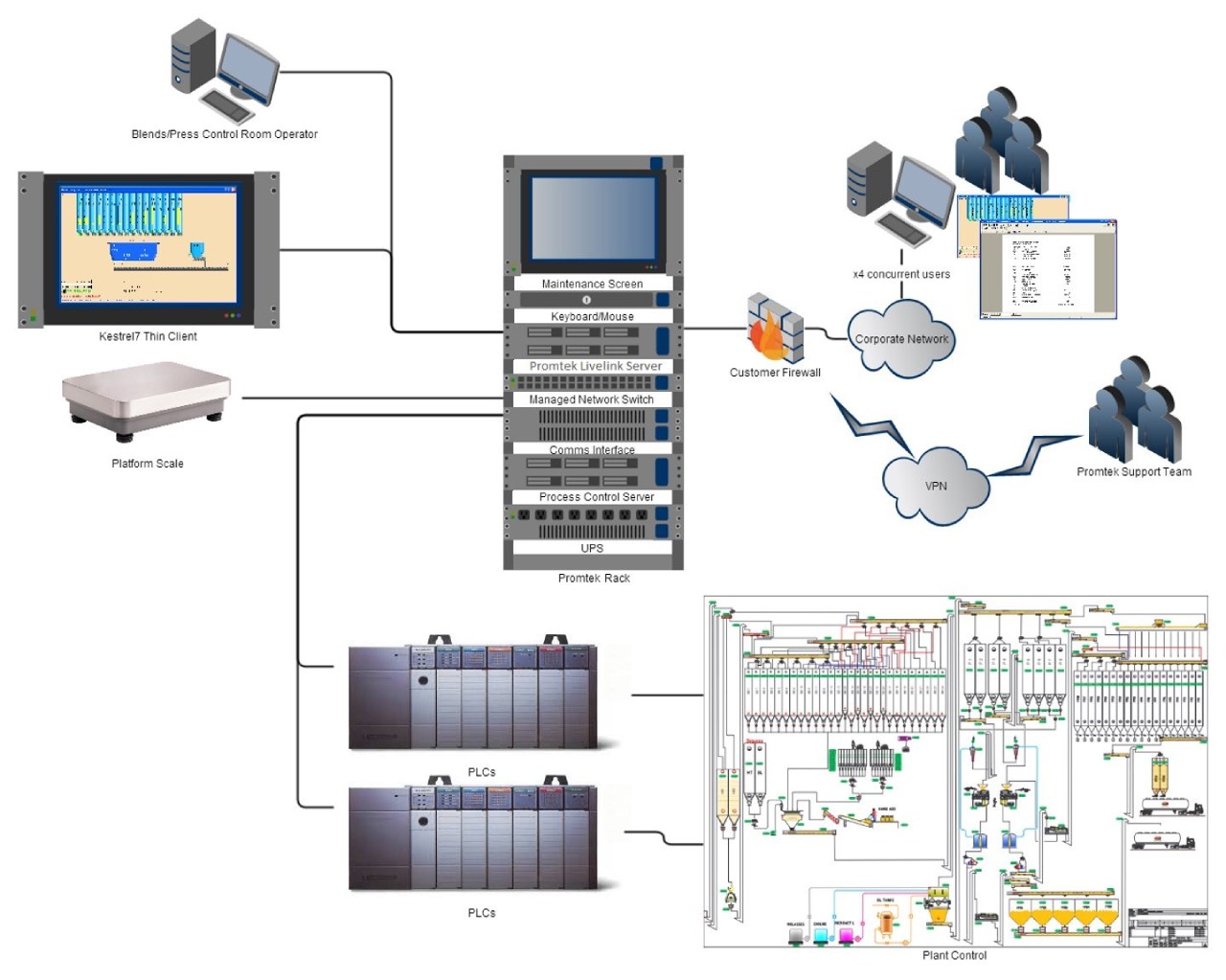 Why is there a need for a StoraWeigh Platform?
End Users with bulk material handling systems often buy their machinery on the global market, where original equipment manufacturers (OEMs) often supply a PLC or small SCADA system with their piece of kit.
The End User must integrate different machines together in a production line, often linking them with conveyors, elevators or moving tubs of product between stations to create the process flow.
Unfortunately, not all PLC and SCADA systems are compatible, so connecting the machine controllers together to control the flow of product becomes very difficult and expensive.
This is where Promtek offers a big advantage with our StoraWeigh platform.
Is it compatible with my existing systems?
Promtek's StoraWeigh® platform runs on all major PLC hardware and allows them to be mixed freely. Interfaces with many popular ERP systems are also available. Promtek has a long history of working closely with systems integrators and hardware suppliers to achieve the best result for our customers.

Contact Promtek
If your enquiry is urgent or requires technical support, please have your support contract number to hand.
Fisher Street
Stoke-on-Trent, Staffordshire
ST8 7QJ
01782 375600
sales@promtek.com
We'll only use your details to contact you about this.